The gloomy and damp monsoon season might make us feel down. We can't even contemplate the thought of channeling our inner fashionista because of the danger of our clothes becoming ruined and our makeup melting. Your nails, however, are one component that doesn't give a damn about the weather and may instantly improve both your attitude and perceived attractiveness. I mean, nail arts specifically. With the start of the rainy season, the monsoon nail trend receives a lot of attention. Anyone would be fascinated to see the raw and magnificent monsoon captured in their nails. Following are seven incredible nail art ideas to help you embrace this season if you're up for the challenge.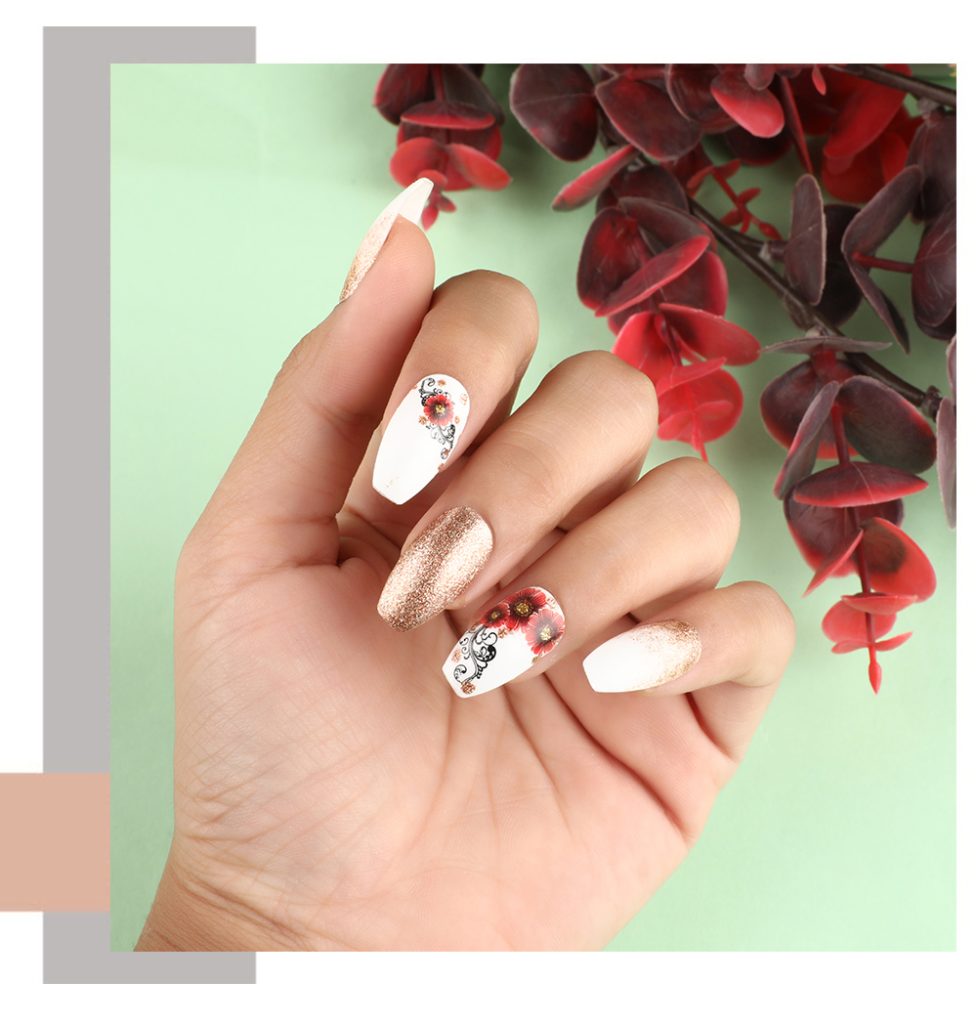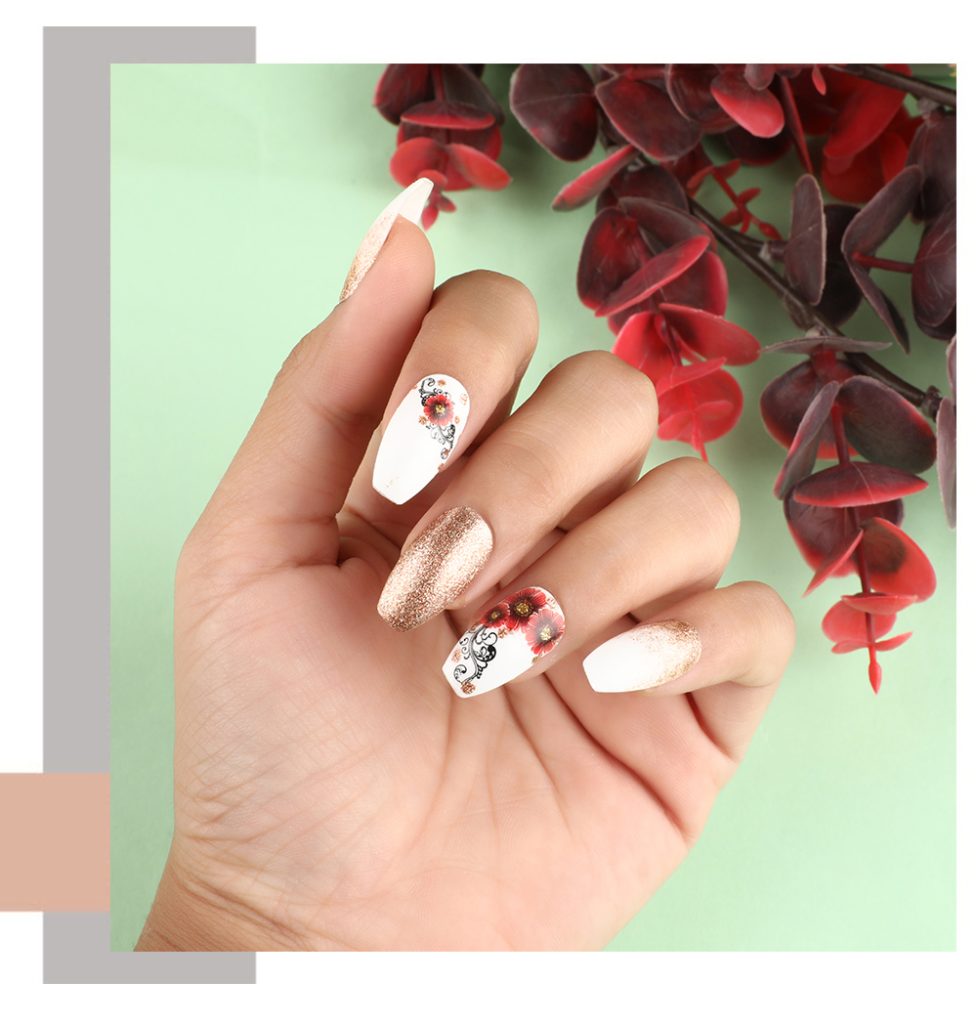 Floral nails with a Glitter twist
Floral fingernails never go out of style. You can never go wrong with a flower nail design, regardless of the time of year, current fashions, or color palette. But which should you pick? It can actually be overwhelming with all the adorable flower nail art out there. Here is the most popular flower nail art idea that we have chosen for you to help you narrow it down. You'll be both trendy and timeless at the same time with this super elegant masterpiece. It is the most understated interpretation of flowery nails and works well with all nail lengths. This style blends dried floral nail stickers with white nails with almond shapes. The style is a mix of vintage and modern and would be unbelievably stylish during the rain. Of course, the glitter on one nail gives the nail art a bit of dazzle.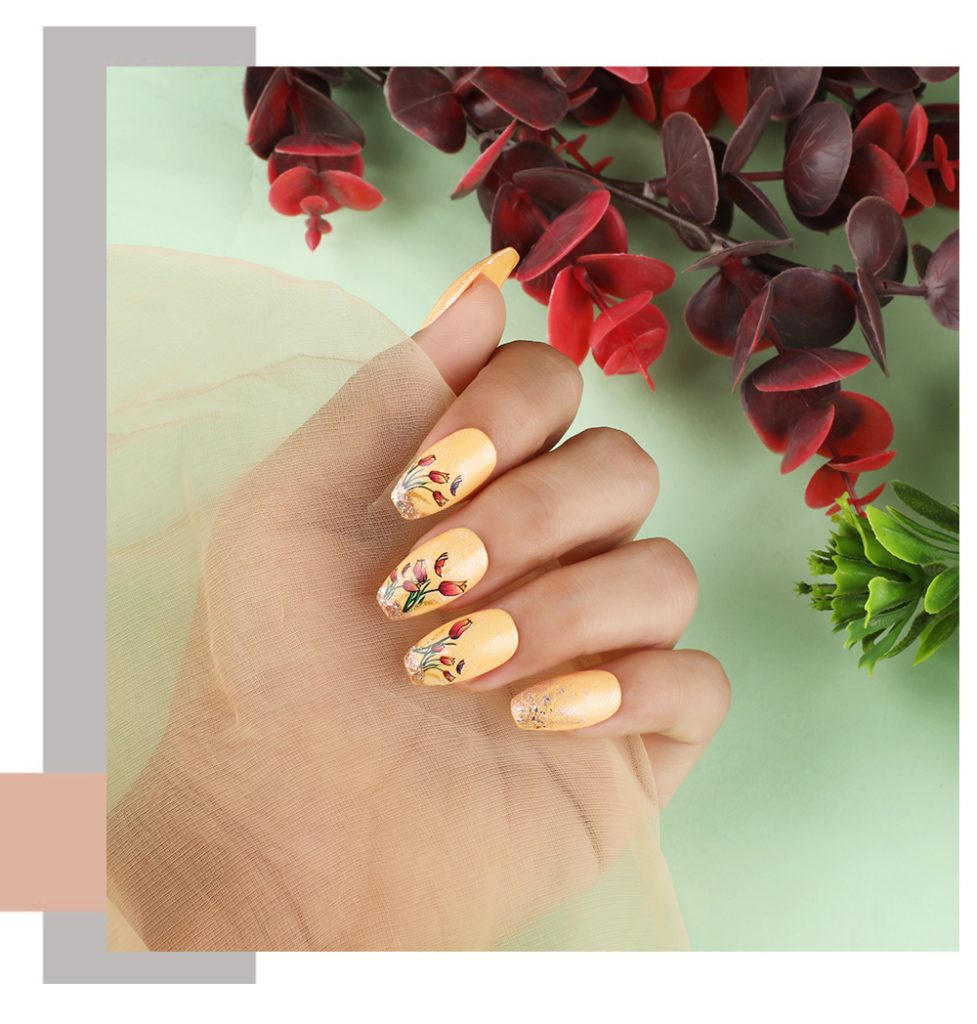 Roses on the Yellow Nails
Here's a style that would absolutely require salon work, but it would be very worthwhile! These floral and yellow-based nails are just gorgeous. They'd surely catch the light so wonderfully, I bet. These would be appropriate for a casual beach party or even a formal function during the monsoon. If you adore yellow nails, this vibrant and striking floral nail design with roses engraved on the nails is for you. It's a busy design, yet it manages to avoid being over the top. The most charming component of this design is a butterfly perched on one of the flowers, and it is once more really simple to do thanks to nail stickers. These nails are trendy and stylish. And of course yes, the glitter on the edges of the design adds the bling factor to the entire design.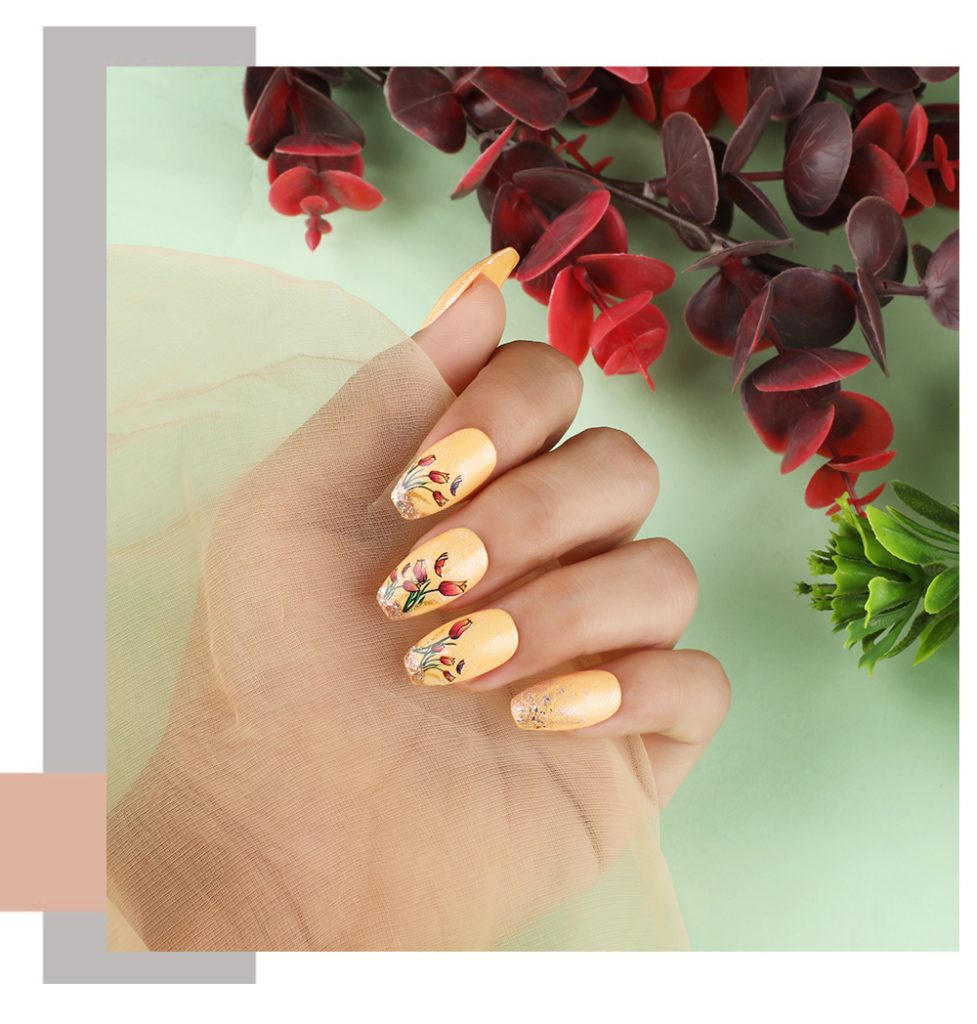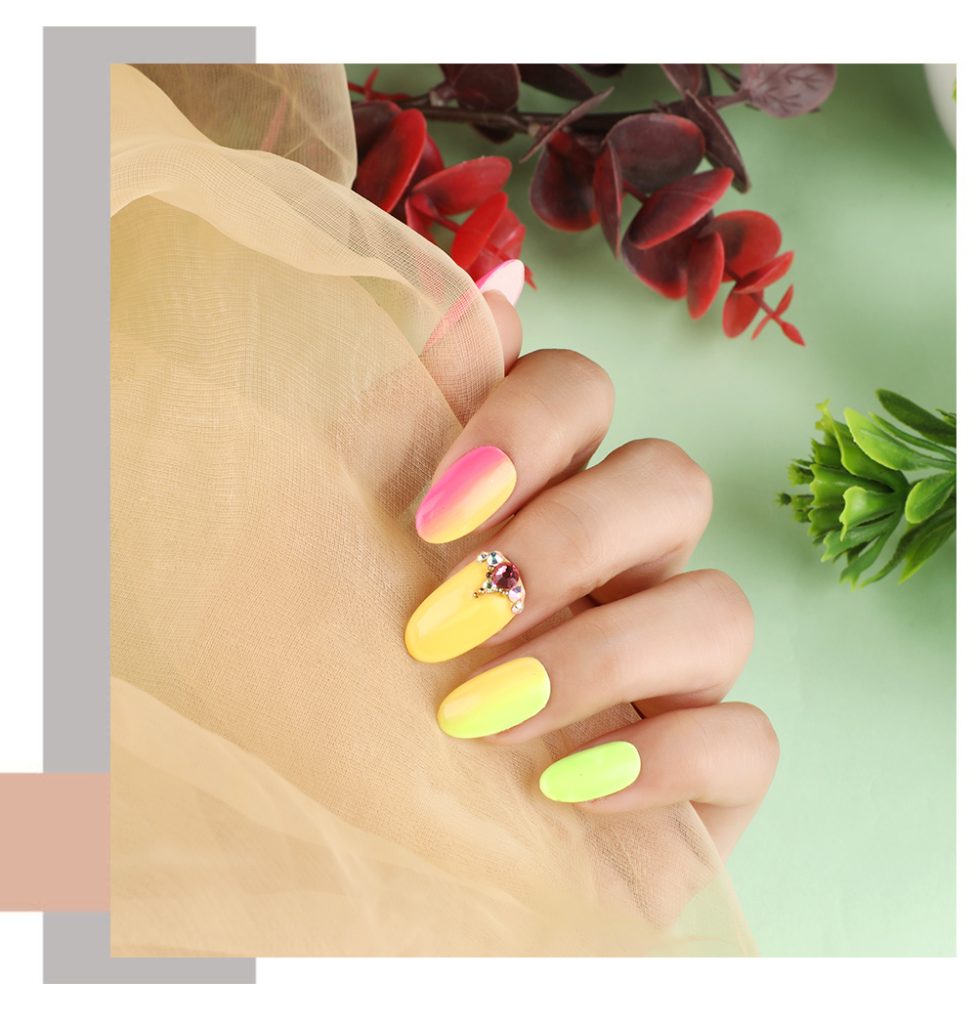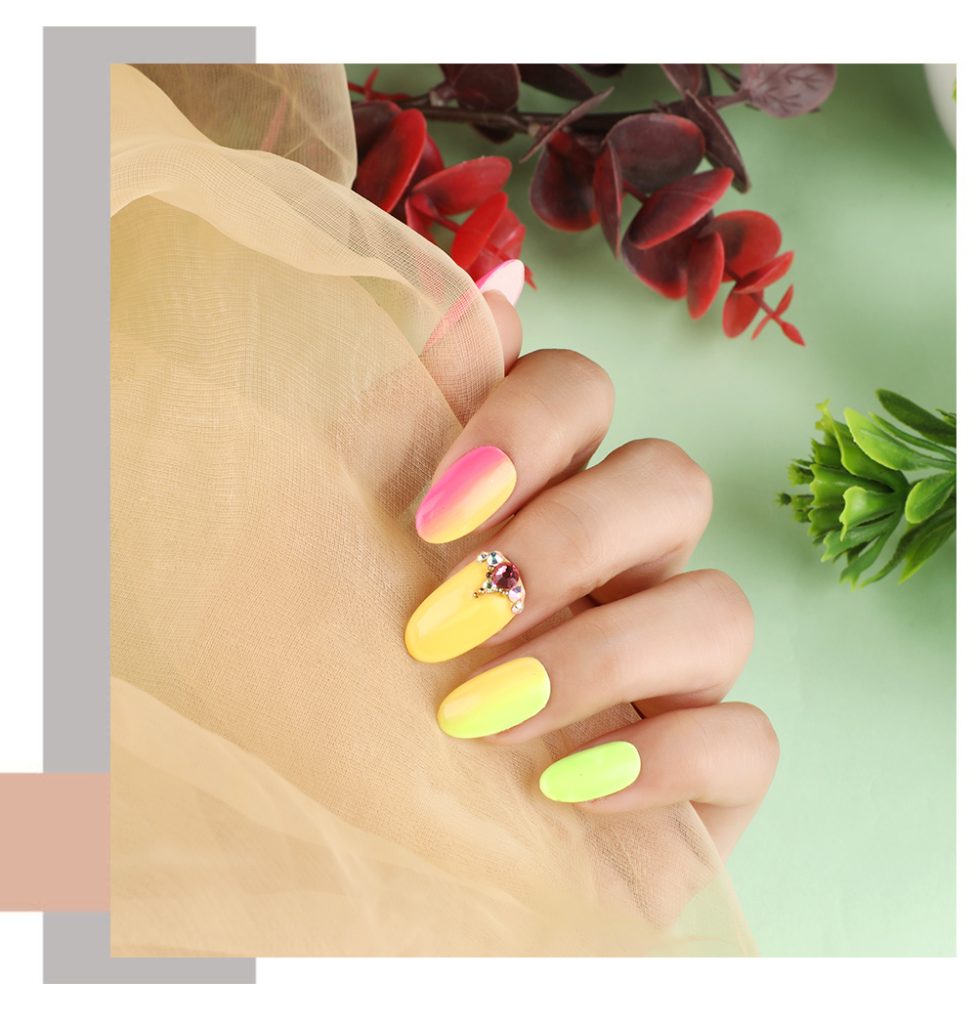 Yellow Tone Ombre Nails
Why limit yourself to just one color when you can color your world with the trendiest Ombre manicure designs that can transform your appearance from plain to bright in an instance. While Ombre has been enormously popular in hair and fashion, it is also fashionably redefining nails thanks to its whimsical gradation of tones that ranges from shadow to light. Every fashionable woman is aware that paying great attention to each and every small detail when dressing from head to toe is essential. Your nails need to be done up as they contribute significantly to giving off a trendy impression. Yellow Ombre nails are following suit to make their influence on the nail art scene, much as yellow has been a force in fashion. With its sunny and youthful aspect, this Ombre combination from lemon to saffron is likely to be appealing.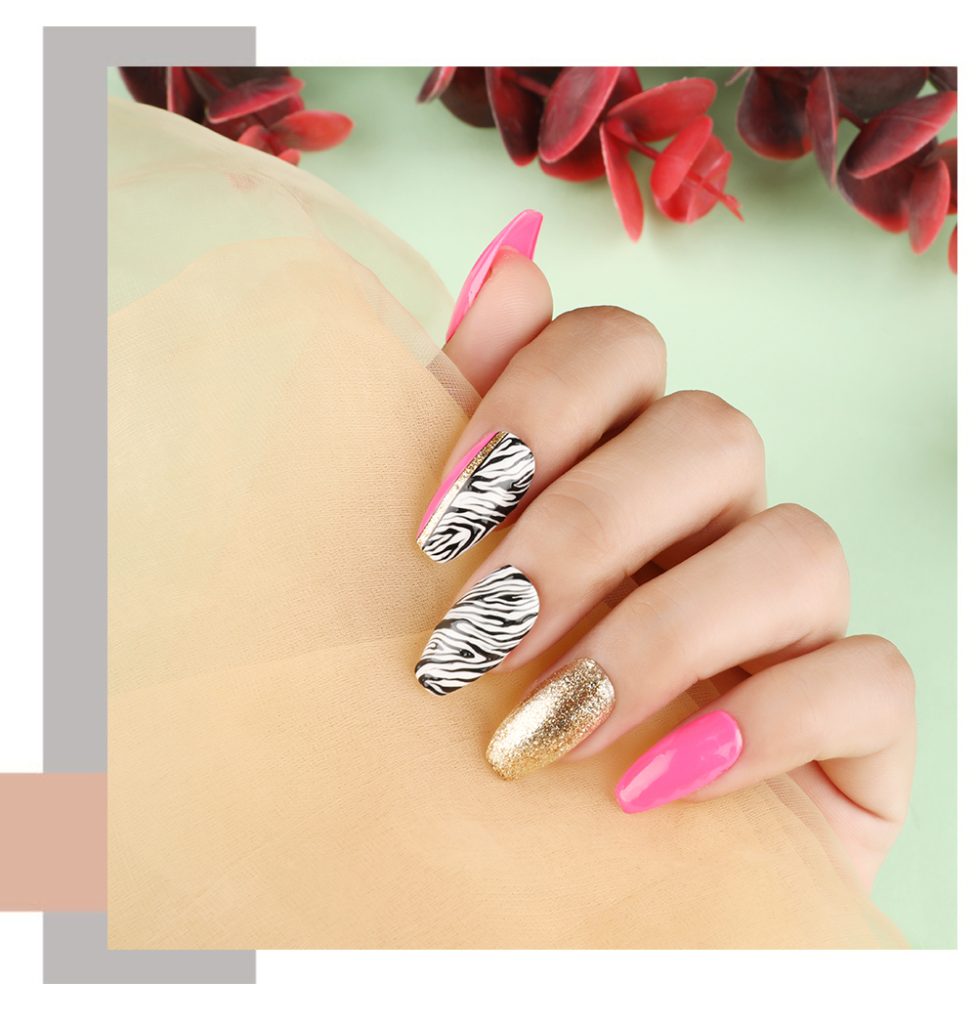 Animal Print with Pink Nails
There are a tone of sources from which to draw inspiration for original nail designs. Among these, the magnificent animal prints—which never ever go out of style—have to be one that screams runway fashion. Animal print-themed nails are as glamorous and intriguing as they appear. The nails are sufficient evidence of your love of animals and interest in fashion. You can experiment with a variety of styles on your attractive fingers, including cheetah print, zebra print, leopard print, and even the new cow print that has just gained popularity in the fashion world. This zebra print appears stunning. On the other fingernails, it has a distinctive pink touch that makes it look even more distinctive and ultramodern. This type of stylish nails can compliment you during this rainy season and also demonstrate how much you value the environment and wildlife!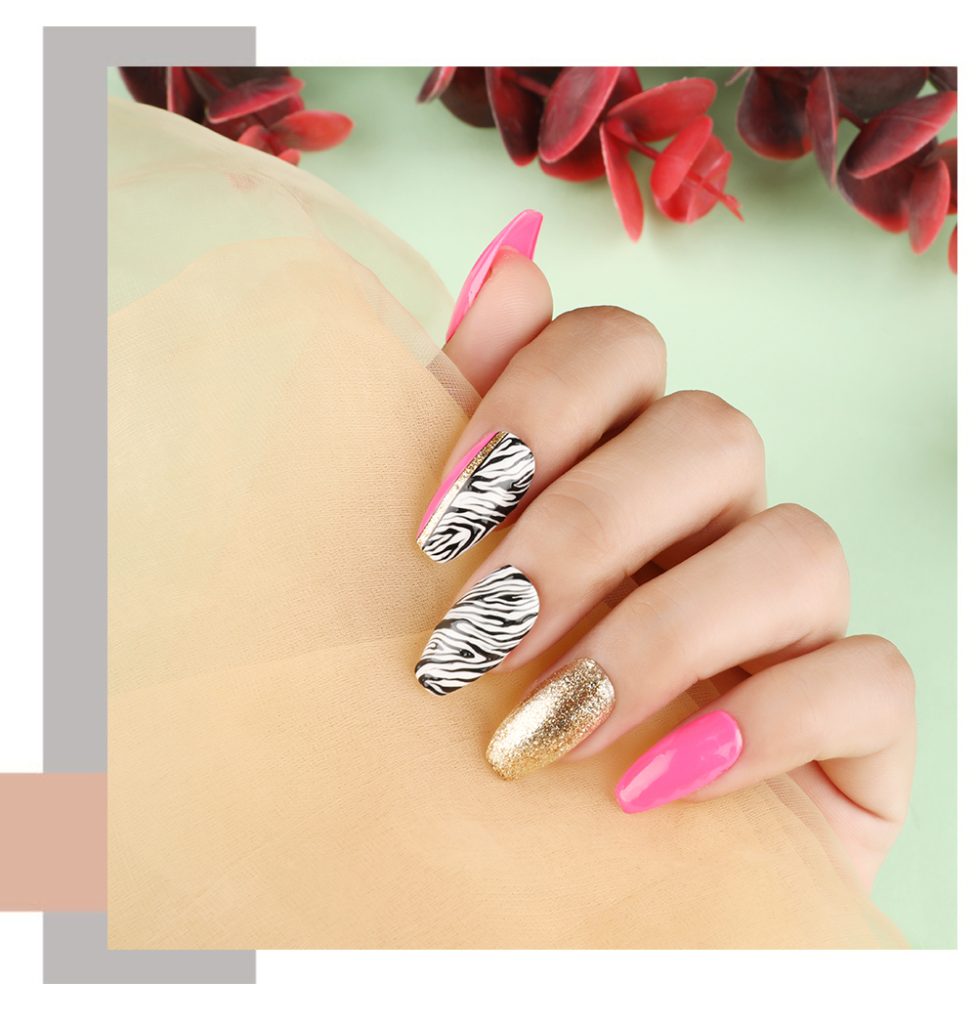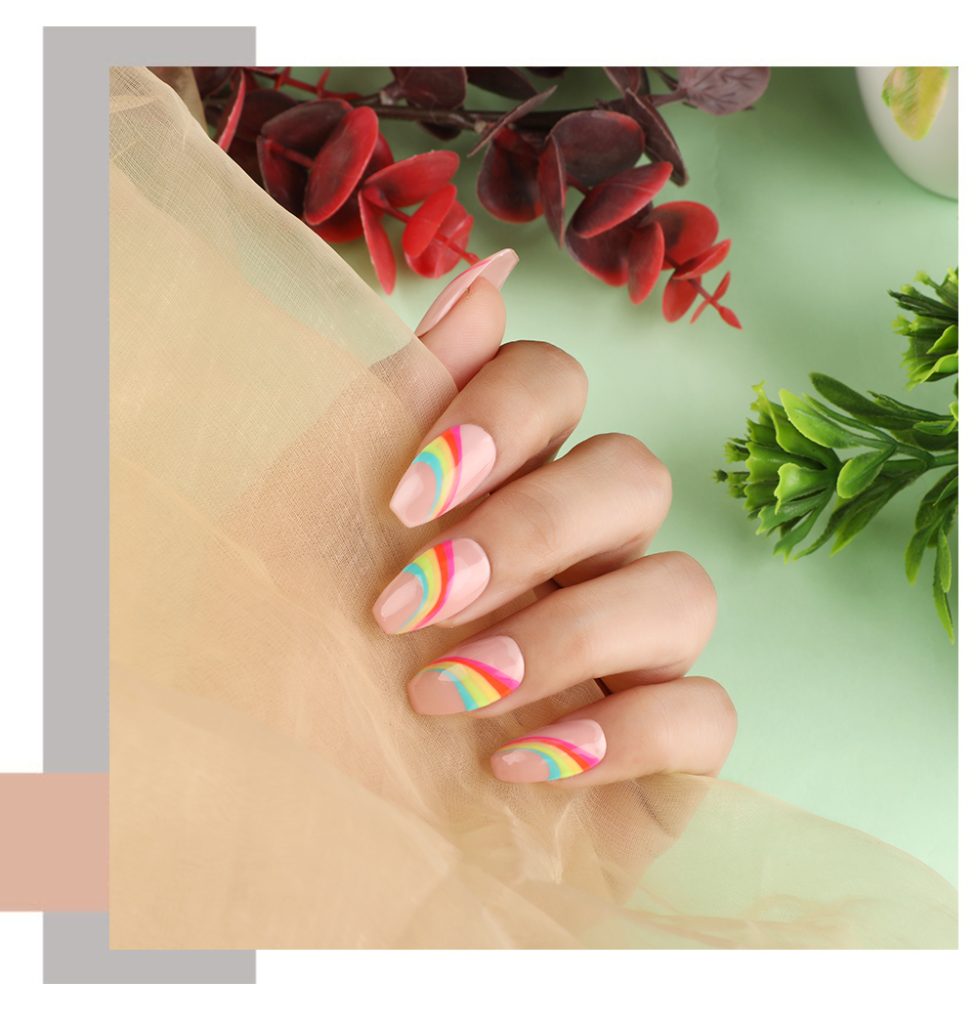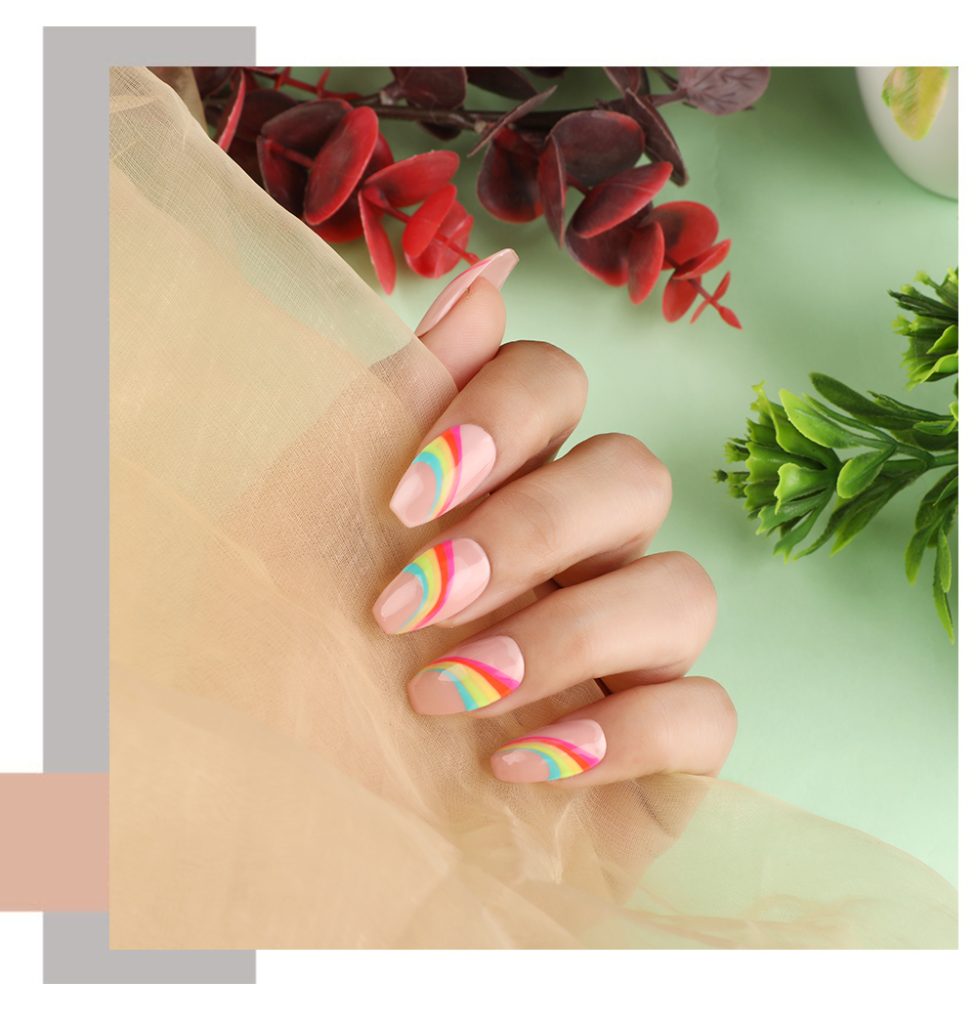 Rainbow Nails
If you want to add some color to your next manicure and choose something that will make you smile, then this is the trend for you. A rainbow can truly bring so much joy. You can get creative by incorporating the rainbow in other ways rather than sticking to the standard shape. To achieve this, experiment with nail spacing and use squiggles and swirls to slightly customize each nail. This will produce an even more captivating appearance. You can experiment not just with colors but also with a variety of textures. The beautiful thing about this is that you can choose an item that suits your sense of style thanks to the trend's adaptability. Your manicure will be bright, wearable, and versatile if you decide to paint the tips of your talons in a variety of striking colors.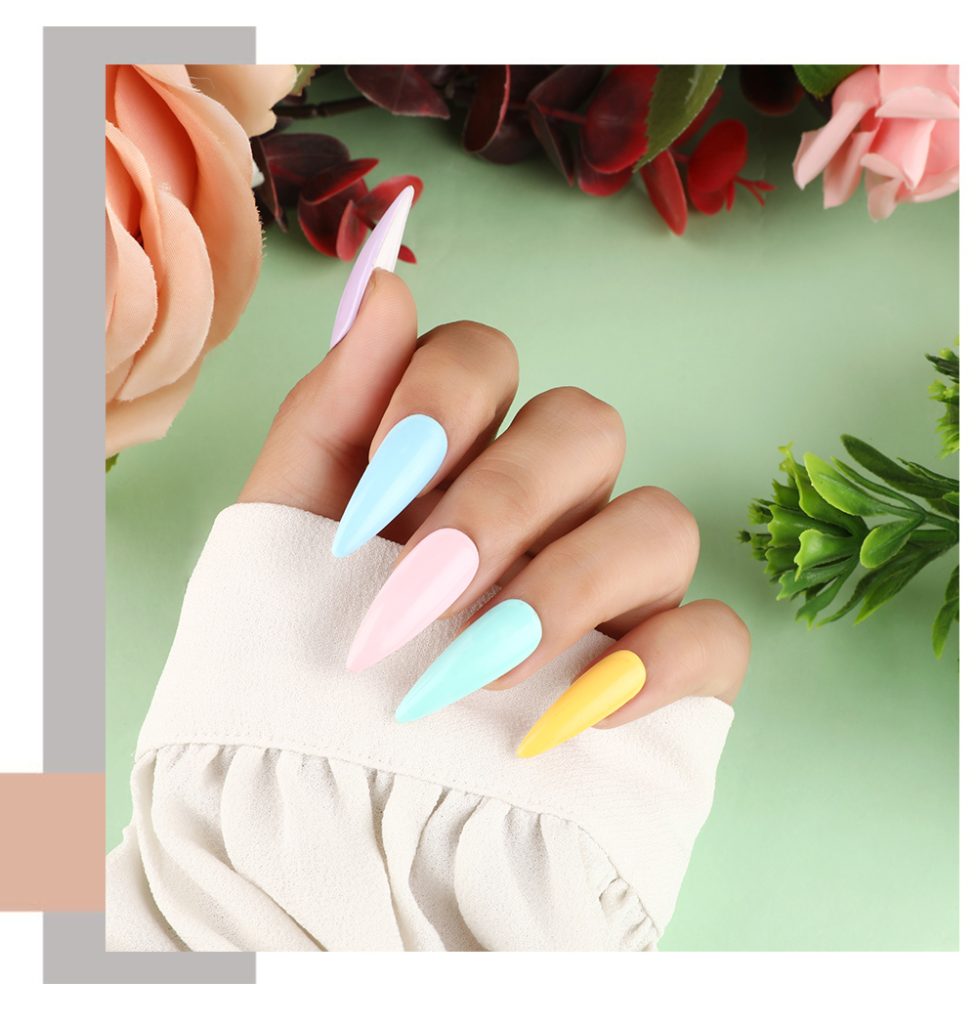 Pastel Nails
A very contemporary and enjoyable appearance can be achieved by experimenting with various forms and painting intriguing tips in place of plain horizontal lines. However, choosing to accomplish this with the vibrant hues of the rainbow creates an even more dramatic and arresting appearance that is undoubtedly ideal for the rainy season. You can choose your favorite tones and paint each nail a different color instead of being restricted to the real shades of the rainbow. Add a base coat to complete the effect and allow the colors to take center stage. Although you can create this artwork with any vivid polish, matte pastels are a classy and feminine choice. This manicure will undoubtedly assist you in achieving the elegant appearance you desire because your fingernails play a significant role in that.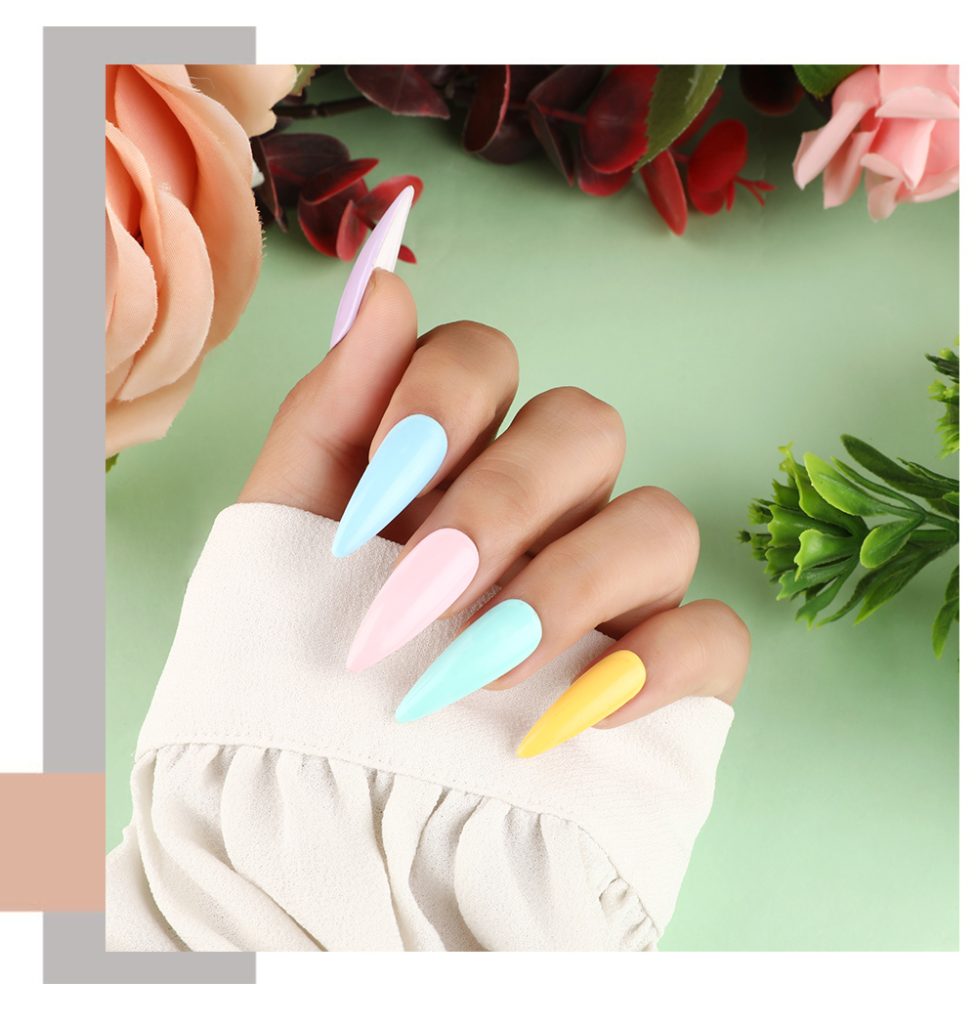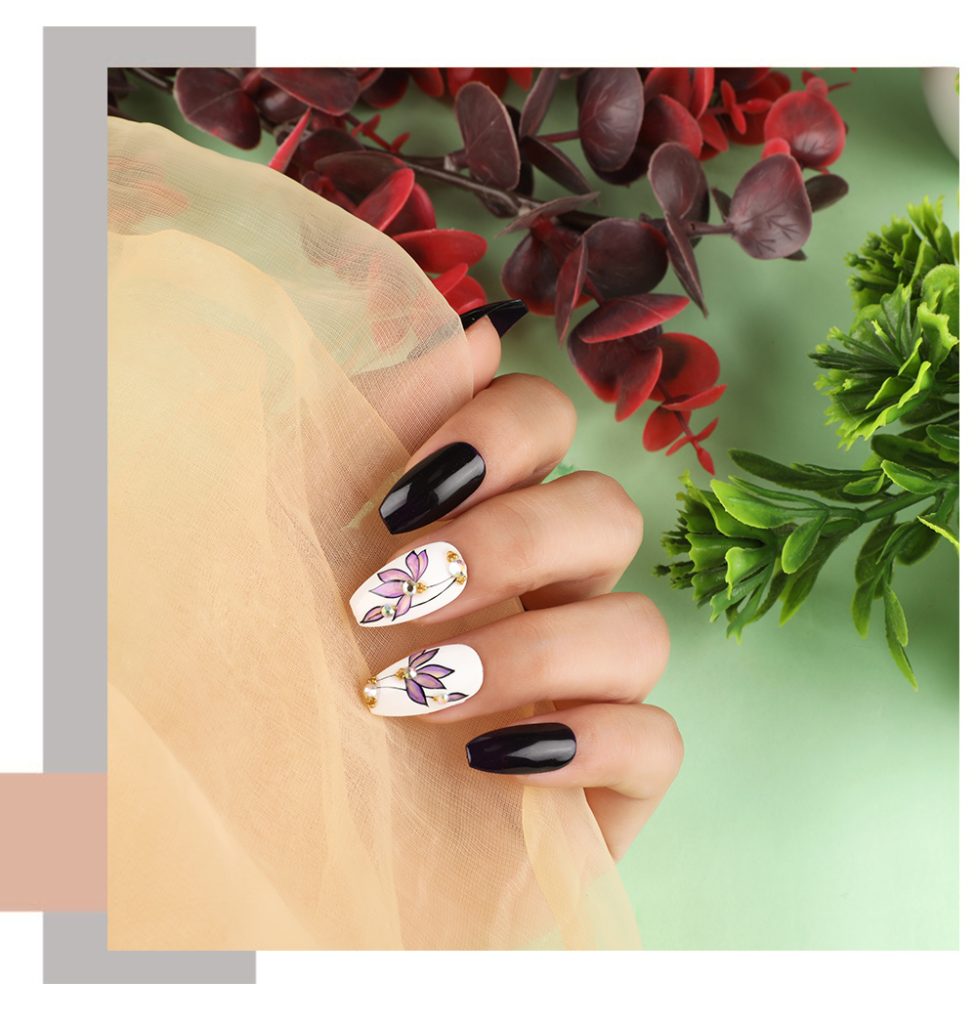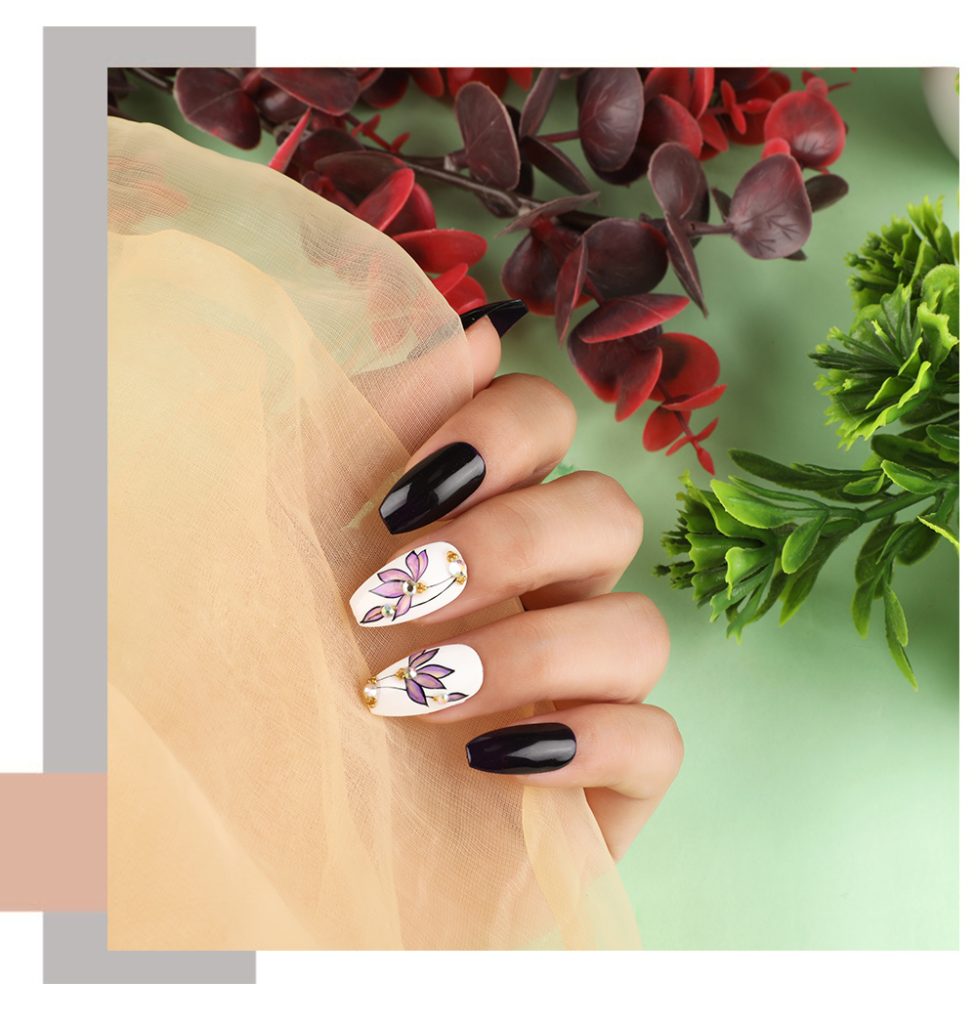 Black Nails with a Floral Twist
While vibrant peach shades and rainbow manicures have become some of the most popular requests in recent years, a delicate floral pattern is always a safe bet. You'll find dozens of beautiful flower manicure designs below that are ideal for a rainy day, whether you prefer solid color applications or accents in the negative space. These exquisite blooms are a true piece of art, and the detailed floral design on the white nail is guaranteed to draw attention. It is evident that the colors black and white embrace and enhance one another. Consider scheduling a nail appointment with a professional to accomplish the look given its complicated pattern.