When it comes to Valentine's Week, there's no such thing as too much pink or red or too many hearts! Dressed to the nines for a night out with your partner or a special Valentine's celebration with your loved one isn't complete without the ideal nails for the occasion. Hearts and kisses are classic symbols of affection, and they appear to be cute choices for nail painting this season. To commemorate the mushy month, try some quirky nail art using glitters and mattes instead of sticking to solids.
 Add classic characters to your nails to improve your French tips. Go for gothic and unusual designs if you don't want to adhere to the cliched options.If you really want to make a statement, try applying jelly polish, acrylic nails, or crystals. Check out these Valentine's Day ideas for some inspiration! To see the magic, scroll ahead and get your nail enamels ready.
Here is the Valentine's day ideas for nail art for you.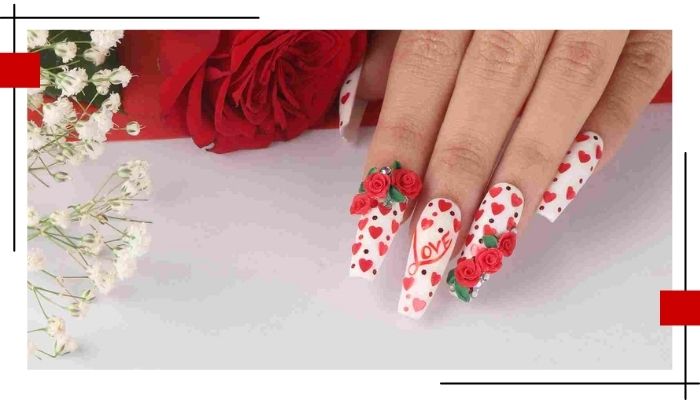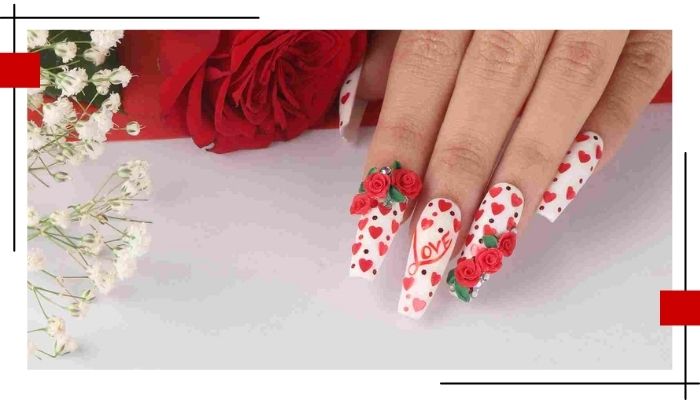 Rose Day
Rose Day is a day when individuals express their emotions using – you guessed it – flowers! These lovely blooms have been used as a symbol of love since the dawn of humanity. Heart nail designs will be trendy, but you can also go for something a little different, like beautiful florals. We adore the concept of roses because they are every girl's best friend. This is a must-try during the holiday season of love. The end effect is sweet and feminine, and if you're single this year, it's also a lovely way to treat yourself to flowers.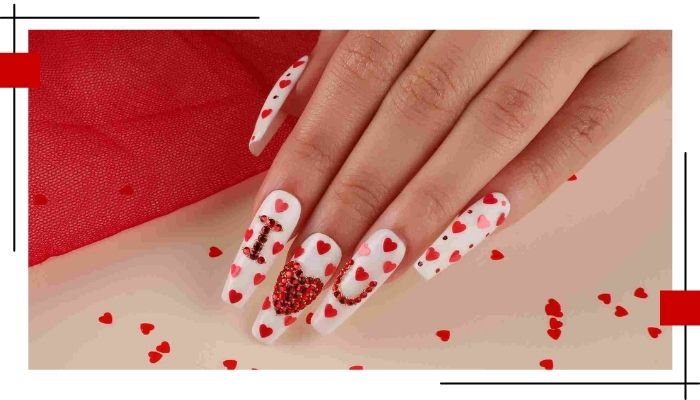 Propose Day
Propose day is the second day of Valentine's Week. For some people, this is a particularly significant day since they are about to begin a new life together. This day is especially significant for those who have been waiting for the opportunity to declare, "I love you." So don't miss out on this opportunity to show your love for your talons while also getting some beautiful Valentine's Day designs printed on your fingertips. To fulfill your creative needs, we've designed this great and inventive nail item. You should definitely give it a shot.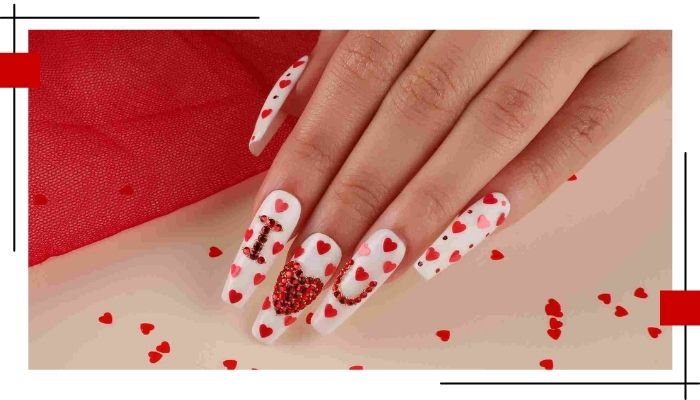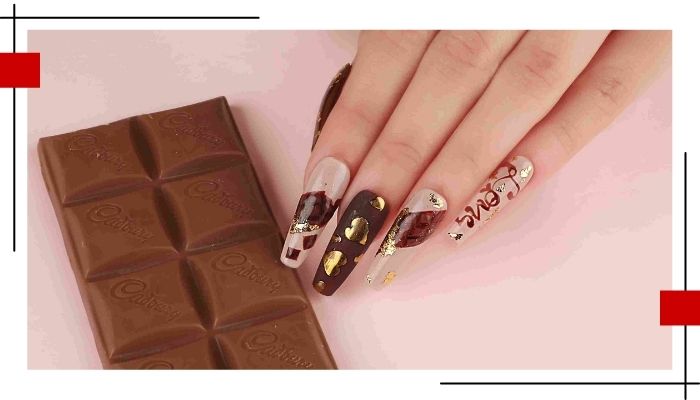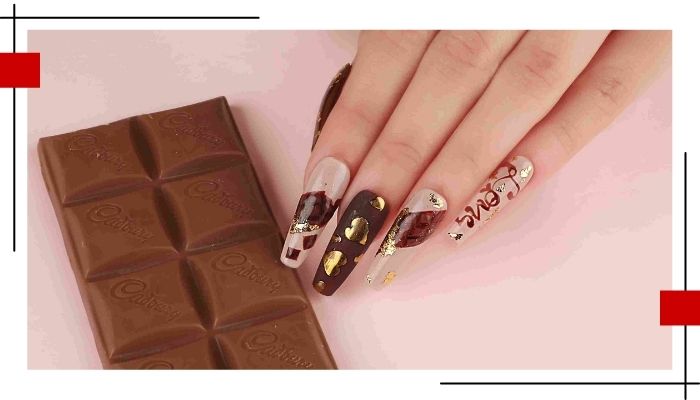 Chocolate Day 
On Valentine's Day, the only thing we might love more than chocolate is… This is a very cool manicure. With the chocolate nail art craze that's all across Instagram, you can combine the two in the most scrumptious way possible. There's no need to be embarrassed—drooling is acceptable. Who says adhering to a more neutral color scheme has to be monotonous? Add some stunning golden color to your chocolate hues, because nothing says Valentine's Day like dark chocolate.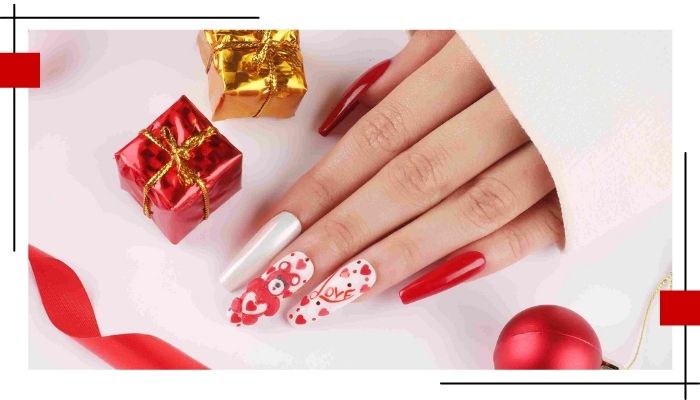 Teddy Day
To look like they've been struck by Cupid's bow, Valentine's Day nails don't have to be coated in hearts. Take a look at these amazing Teddy Day nails we created for all the teddy lovers out there. The lovers give their loved ones cuddly and soft teddy bears. During the love season, you can get gorgeous teddy designs embossed. We're not sure about you, but we think they're gorgeous. One must definitely try this.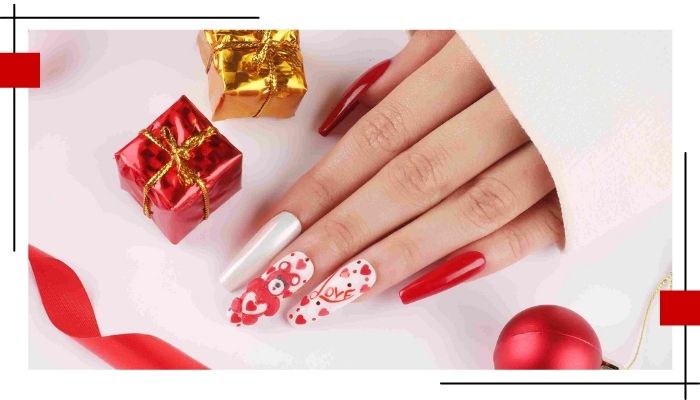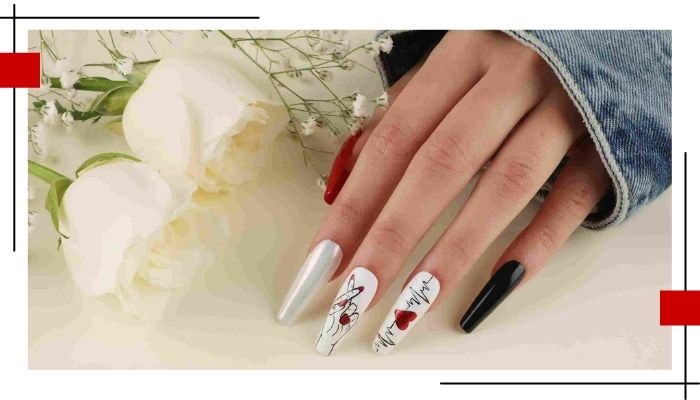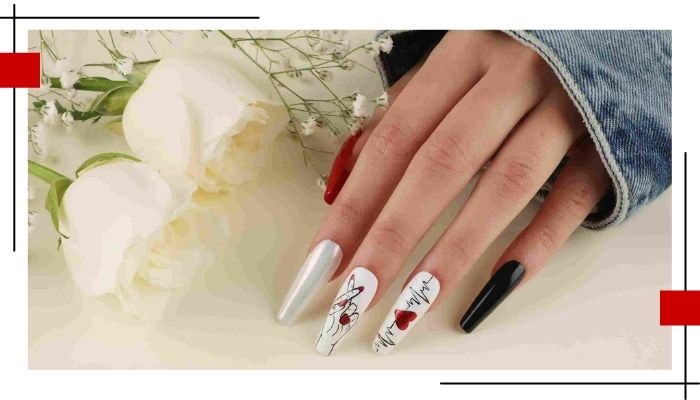 Promise Day
Texture offers visual appeal without being overbearing, which is ideal for people who prefer a subtle style or want that particular someone to take another look. You can accomplish this by experimenting with the finish of your top coat. The look may change colours completely depending on the polish you use, but regardless, it's a cute way to show your sweetheart that you still have feelings for them in this Promise Day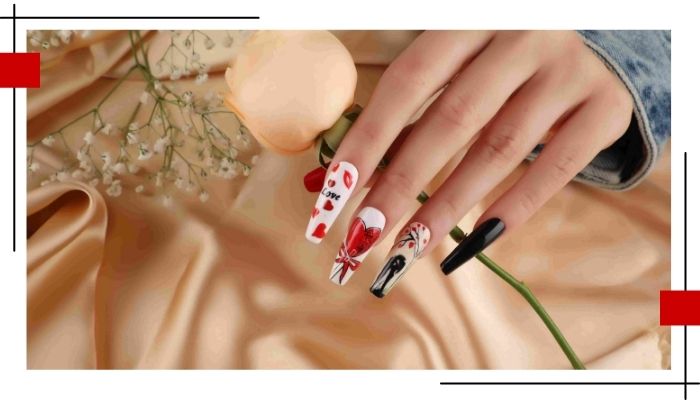 Hug Day
 Valentine's Day is the perfect reason to wear any nail art design that makes you happy, whether you're single or in a relationship. Here is a nail masterpiece that we developed just for Hug Day. This type of nail art idea is sure to get your heart racing. During Valentine's Day, the color combination of red and white is extremely necessary. However, the addition of a dash of black art to the entire nail piece provides a creative twist. It's definitely worth a shot on Hug Day.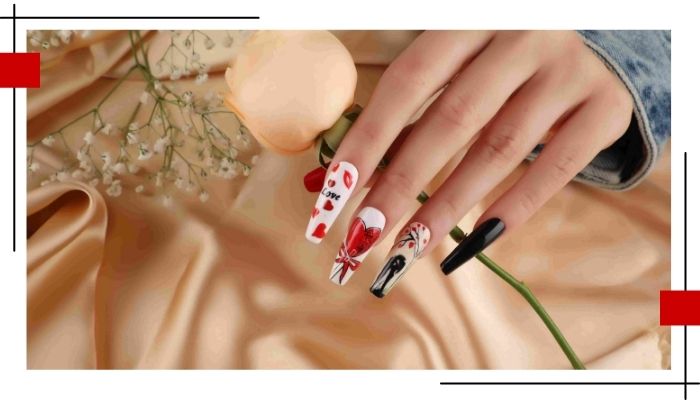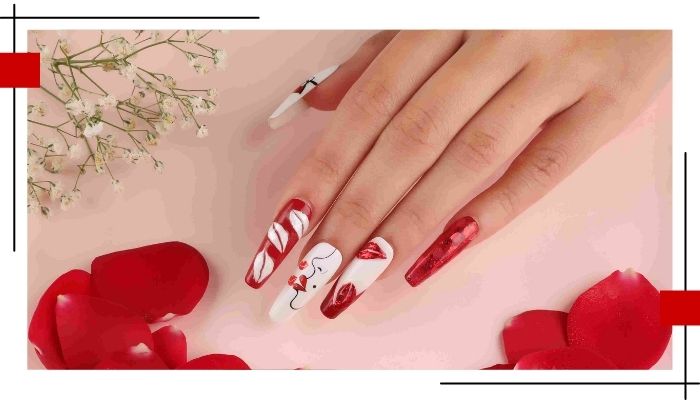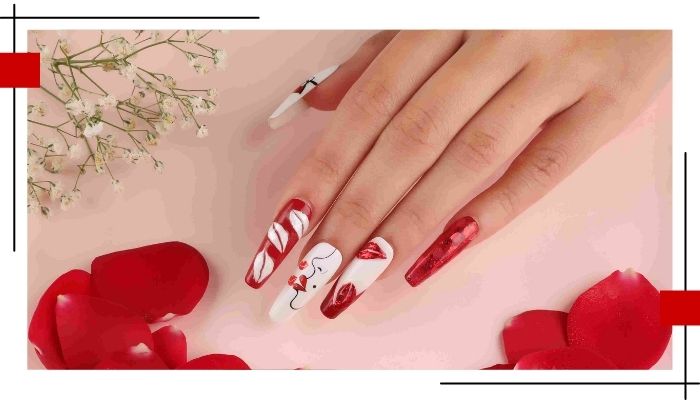 Kiss Day
Modern valentine manicure designs incorporate unexpected color combinations, patterning, and theme-based patterns. In this kiss day unique manicure design, we adore how red and white are combined together. The intricacy of painting the lips and face with painting gel on a white nail is breathtaking. Adding a lip design to one nail creates a completely romantic Valentine's Day look. Whatever style you choose, you must attempt this nail art technique to be fashionable on Valentine's Day.